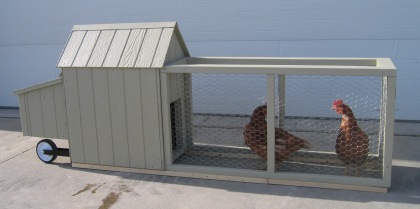 The New Corn Row Chicken Coop is the perfect portable chicken coop for keeping your corn rows free of weeds and keeping them well fertilized.
These are great for 1 – 4 chickens and will include wheels for easy moving!
Corn Row City Chicken Coop Features:
Exterior enclosed area- 16′ x 48′
Interior enclosed area- 18″ x 25″
Overall Height- 34″
Overall size (including nest box)- 16″ x 88″
Door size- 10″ x 21″
All of our DIY kits can be picked up at our retail location in Nolensville, TN (South Nashville – Just east of Brentwood, TN and Franklin and North West of Murfreesboro, TN) OR we can ship directly to your home(anywhere in the lower 48 states). See Details below on Delivery. We also offer installation service if you would like a professional to build it for you!
Delivery of Panelized Kits:
Panelized kits are shipped nationwide via common carrier. When your shipment is expected to be delivered via common carrier, you will be required to have 2 people there to help unload. Your shipment will arrive on a pallet (number of pallets will vary with size of building). The truck driver will help remove the bands and wrapping on the pallet, the 2 people will then be required to unload each panel piece by piece from the truck.